Nowhere Podcast
Nowhere is a monthly podcast that will feature stories about the invisible alignment of technology and society and will explore the ways in which geospatial technology affects our lives. Understanding societal values in technology design is critical for success in it's intended use, although more often than not there are unintended consequences. The intersection of society and technology and its accidental uses provide interesting and compelling stories of how tech unexpectedly affects our lives. Nowhere is a podcast that brings you monthly episodes of inspiring, informative, and authentic discussions with technology leaders from around the world. Host Jonathan Neufeld aims to explore the intended or unintended uses of geospatial technology and its effect on the real world.
Episodes
Thursday May 12, 2022
Thursday May 12, 2022
Maggie Cawley joins as a guest in this episode. Maggie is the Executive Director for OpenStreetMap, a nonprofit collaborative project to create an editable geographic database of the world. Anyone with an email address can edit this map. The goal is to try and build the best, most comprehensive map of the world.
OpenStreetMap has become a resource for people all over the world for analysis, to inform decision making, and allowing local participants to show the important features of where they live. Over 20,000 companies like Craigslist, Amazon, and Uber use OpenStreetMap.
About a year before recording this podcast episode, Maggie was contacted by park rangers concerned about the use and overuse of specific paths that were being perceived as trails based on information provided by OpenStreetMap. She used this opportunity to start a wider discussion on bringing awareness to this issue.
Maggie now has a working group with land managers, mappers, outdoor enthusiasts, and soil experts who are volunteering their time to work together and find a solution. This situation has highlighted the emphasis for adding the necessary metadata—for example, not just that there is a trail, but the features of the trail. As they work towards a solution, Maggie hopes educational resources will be available moving forward.
Tuesday May 10, 2022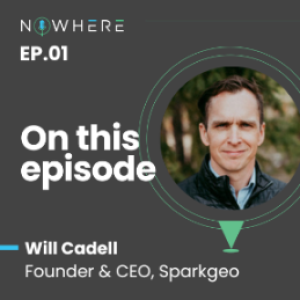 Friday May 06, 2022
Friday May 06, 2022
In this episode we're joined by Will Cadell. He is the founder and CEO of Sparkgeo, which is a geospatial partner for some of the biggest technology brands in the world. Will sees geospatial work as a community practice because it touches so many different people.
Sparkgeo recently worked with Arturo, who is in the insurance space. A large part of their work includes evaluating roof properties, and Sparkgeo worked with their team to help them make these evaluations even quicker and more effectively.
Will is very interested in open data, and he values the accessibility of sharing information. That said, open data does reveal more than you think. Having structure in the data is key, but this begs the question: whose internal values are going to be reflected in the data when they decide how to structure it? Data is opinionated—and this idea can be difficult to get around.
Being able to use geospatial technology can play an important role in protecting people from natural disasters like landslides, floods, and fire. The data shows there is a link between a high fire severity index and flooding. Fires can inhibit an environment's ability to absorb water. These extreme fluctuations are connected, as one event can lead to another. Read more about the data on SparkGeo's blog.
Imagine if you were buying a home. Wouldn't you want to know how at risk your area was for wildfires and flooding, especially amid the climate changes we're experiencing? This is an example of how geospatial technology can be applied to help everyday people.